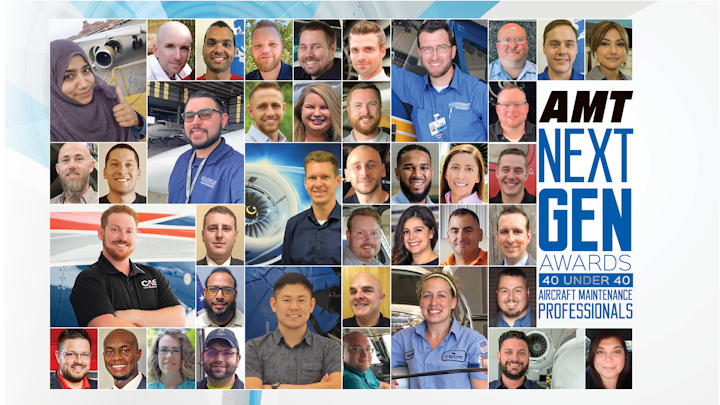 Congratulations to this year's winners of the AMT Next Gen 40 Under 40 Awards. It is their passion for the industry that keeps aviation strong, exciting and above all else – safe. The winners come from all segments of the industry, just like the segments we feature in each issue of Aircraft Maintenance Technology. Whether they come from general aviation, business aviation, antique aircraft, rotocraft, military, airline, education, executive management, or maintenance, these individuals have one thing in common - a love for, and a respect for the industry and the importance of what they do. 
Some winners grew up near an airport and fell in love with the sound an aircraft makes as it swooshes on by, some were influenced by family members in the business, and others were drawn to exploring how machinery works and ended up in aviation by chance. Whatever the path they have chosen, these winners landed here, with us, in aircraft maintenance - and what a great place to be. 
As you read the descriptions, we hope you are encouraged to promote the industry as well, and give back to tomorrow's leaders either through speaking to students, hands-on training, mentoring, or promoting the importance of aircraft maintenance as the aviation sector continues to grow around the world. And keep AMT's Next Gen Awards in mind when it comes time to nominate candidates for next year's winners.
Aircraft Maintenance Technology is proud to announce this year's 2019 AMT Next Gen 40 Under 40 Award winners:
Robert Scott Allen, Endeavor Air
Michael Barnes, Aviation Institute of Maintenance
Jason Barrett, TurbineAero Repair
Steffen Dohrmann, MTU Maintenance
Nick Downey, AAR Aircraft Services Duluth
Albert Eike, CAS (Certified Aviation Services)
Colin Estes, Certified Aviation Services
Nicholas Filipone, PROTO Industrial Tools
Jonathan Frederickson, Endeavor Air
Benjamin Conrad Fox, Cirrus Aircraft Factory Service Center
Jason Grafton, Embraer Aircraft Maintenance Services
Sandra Granados, Gary Jet Center
Olando J. Holman, Warner Robins Air Logistics Complex
Christine Johnson, New Horizons Aircraft Ignition Repair
Simon Victor Kagwe, Delta Air Lines
Rachel Klebe, Galvin Flying Services
Joshua Lyon, LeTourneau University
Daniel L. Neeley, StandardAero
Stephanie Michelle Nita, Flightline Group, Inc.
Christian Mutz, Lufthansa Technik AG
Carlos Orrego, Banyan Air Service
Ashley Rodriguez, Bombardier Business Aircraft
Sean Peters, C&L Aviation Group
Kevin Sakumoto, Hawaiian Airlines
Travis Schleusner, Aviation Performance Solutions
Sean Antonio Segers, Lockheed Martin Aeronautics
Michael B. Smith, Pratt & Whitney
Caesar Strait, TurbineAero Repair
Nicholas Vartanian, Helitender Inc.
Chris Wilson, Augusta Aviation, Inc.