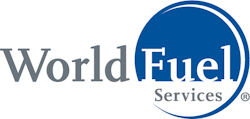 9800 NW 41st St.
Suite 400
Miami, FL 33178
World Fuel Services Corporation is a global leader in the marketing, sale and distribution of aviation fuel products and related services. Customers value single supplier convenience, competitive pricing, trade credit, risk management, logistical support, fuel quality control and fuel procurement outsourcing — all provided by our global team of local professionals.
World Fuel Services provides comprehensive flight operation solutions that include contract fuel, trip support services, AVCARD® aviation charge card, aviation insurance, and the FlyBuys™ Rewards Program. More than 8,200 flight departments trust World Fuel Services to deliver high-quality service to over 20,000 aircraft around the world. World Fuel Services provides solutions to airports & FBOs that encompass branded and unbranded fuel supply, World Fuel Services Network FBO programs, and the Air Elite® Network of Diamond Service FBOs. With more supply locations than any other Business & General Aviation supplier, they provide more than 6 billion gallons of jet fuel annually to airports of all sizes.
Request More Information
Fill out the form below to request more information about World Fuel Services Corporation.
---