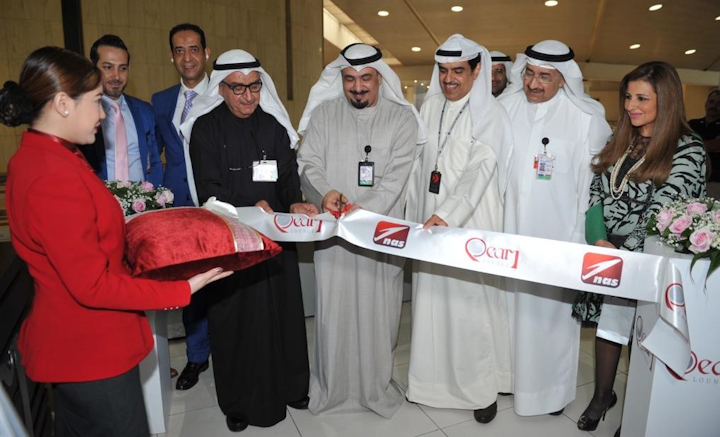 NAS
National Aviation Services (NAS), the largest lounge operator in the Middle East, introduced its newly refurbished Pearl Lounge and renewed Hala Kuwait meet and assist service at the Kuwait International Airport Terminal 1 (T1) recently.
The official opening was held under the patronage of His Excellency Sheikh Salman Al-Hamoud Al-Sabah, President, Directorate General of Civil Aviation (DGCA) and led by Eng. Emad Faleh Al Juluwi, Deputy Director General for Aviation Safety & Air Transport Affairs from DGCA, Adel Malallah, Chief Government Relations Officer, Mansour Al-Khezeim, General Manager and Maha Al-Musallam, Director, Customer Experience from NAS Kuwait.
The Pearl Lounge has been operational since 2004 and till date remains one of the popular lounges at the Kuwait International Airport. The refreshed lounge wears a contemporary look and introduces new and unique features covering a space of 475 square meters. The lounge offers an expanded seating area with 220 seats, a larger hot and cold buffet selection, a live cooking station, prayer rooms, children's playroom, shower facilities and a smoking room.
In line with quality and luxurious services, a newly introduced feature includes two special rooms with reclining lounges, dedicated to guests that need some quite area to take a relax and nap. The lounge also has free wi-fi, live streaming TV channels and a selection of reading material ensure a wide array of entertainment options.
Located in the departures area after immigrations, the Pearl Lounge offers an ideal environment for passengers to relax, unwind or freshen up before or after their flight. The lounge partners with major credit cards as well as lounge access cards and can also be booked ahead of time via www.fasttrack.aero or accessed around the clock through direct payment.
This Pearl Lounge is one of five lounges operated by Kuwait based NAS, under the supervision of the Kuwait Directorate General of Civil Aviation (DGCA).
Commenting on the opening, Hassan El-Houry said, "NAS is proud to be a Kuwaiti company - a company from the emerging markets, for the emerging markets. With a presence in 40 airports across the Middle East, Africa and South Asia, we have an established global network but continue to remain committed to our roots. Our topmost priority is to ensure that we offer world-class facilities and services to the airports in Kuwait, be it infrastructure, resources or training. We also offer operational expertise, innovative technology solutions and industry benchmarked services. The new look Pearl Lounge is one of our continued efforts and investments in this direction and we are extremely grateful to the Kuwait Directorate General of Civil Aviation for their continued cooperation and support. "
NAS also introduced its Pearl Assist meet and assist service called Hala Kuwait in the departures lounge. This service helps travelers avoid long waiting times when departing from or arriving into Kuwait. For departures the service helps you cross over immigration while on arrival passengers are greeted at the aircraft gate and walked through all the immigration formalities.
Mansour Al-Khezeim highlighted that NAS also offers a variety of other airports services in Kuwait that include, "Baggage Delivery Services" on arrival at T1 to your doorstep at any location in Kuwait and help you exit the airport faster and IATA certified travel and tourism services through the "NAS Travel and Tourism" office available 24/7 at the airport.
Al-Khezeim added "While we extend our efforts to develop facilities and services in Kuwait, we also support hiring of local talent and work on offering alternative careers opportunities to youth in the country through our various services at the airports in Kuwait."
NAS operates over 40 lounges across Middle East, Africa and South Asia. The company's joint venture was recently awarded a contract to develop and operate the lounge at the Midfield Terminal in Abu Dhabi.