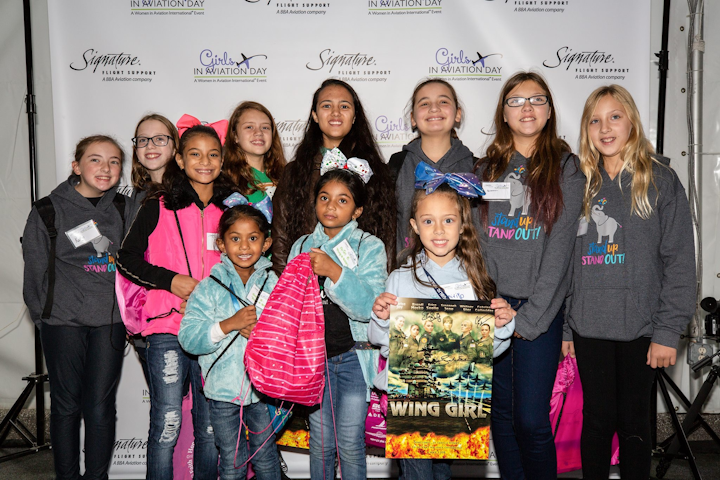 Signature Flight Support
In its second year as a corporate host, Signature Flight Support has joined Women in Aviation International chapters and corporate members globally as a title sponsor for Girls in Aviation Day (GIAD) Delaware Valley - an outreach event aimed at inspiring the next generation of females in aviation. Doubling their 2018 event attendance, more than 800 guests are expected to attend.
The event aims to address the aviation workforce shortage by introducing young women to careers in science, technology, engineering and math (STEM) and their role in aviation. It will take place at Signature's FBO location at Atlantic City Int'l Airport in Egg Harbor Township, New Jersey from 11:00am to 4:00pm on Saturday, Oct. 5. With more than 800 young women and their chaperones expected to attend, visitors will enjoy static displays, fly drones, participate in STEM and aviation exhibits, and meet and listen to a diverse group of female speakers. Attendees serving in Girl Scouts of USA will also have the opportunity to earn the new Girl Scout Aviation Girl Fun Patch.
The GIAD Delaware Valley event committee, eager to expose more girls to aviation career pathways, officially opened RSVPs on, Aug.12. "We are one week into publicizing our event and currently see more than 250 girls signed up," shared Dave Krause, committee co-chair and co-owner of Influential Drones, one of the event's veteran partners. "Signature Flight Support was quick to support our GIAD for a second year, and their fixed-based operation (FBO) at the Atlantic City Int'l Airport (ACY) brings together a fantastic venue complete with hangar, ramp space and a private aircraft terminal, as well as the full support of the FBO staff and community volunteers."
"Signature Flight Support is a strong advocate for investing in the development of the next generation of aviation professionals," explained Stacy Suazo, general manager of signature ACY. "We are proud supporters of Girls in Aviation Day and its endeavor to make our industry accessible and welcoming to women."
"Today we celebrate National Aviation Day. It's a perfect time to highlight our partnership with Signature Flight Support, as their generosity allows us to offer this event free for girls and their parents, guardians, and chaperones," stated Lyndse Costabile, committee co-chair and veteran partner through FunD Av Consulting. "As volunteers and philanthropists, we believe it is our duty to provide quality outreach events for our young women to find inspiration, grow their engagement, and explore their interests with hands-on activities across aviation and STEM. We are shaping a new generation of talent, and it's imperative that our future aerospace workforce includes women and minorities."