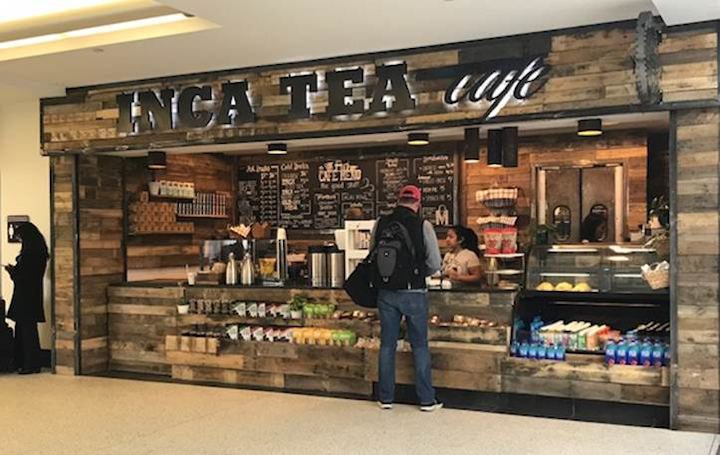 Fraport USA
Tea-loving travelers at Cleveland Hopkins International Airport are in for a treat. Cleveland's own Inca Tea is expanding with a second location on Concourse C. The new Inca Tea Café offers a variety of signature, fresh brewed teas and locally made foods in an inviting setting. The smart build-out and use of reclaimed wood and granite counters in the 310 square-foot unit lends a warm, rustic look that reflects the company's eco-friendly ethos.
"We are thrilled to announce Inca Tea's second location and expanded offerings at the airport," said Tina LaForte, vice president of Airmall Cleveland, a project of Fraport USA. "This socially conscious local company has grown in leaps and bounds in three short years. Since the first kiosk opened here in 2014, Inca Tea has continued to grow and serve the natural and local products that delight passengers."
Inca Tea specializes in exclusive GMO-free teas derived from an ancient Incan recipe with 1,000 years of tradition that uses antioxidant and nutrient-rich purple corn. Flavorful brews range from Peruvian Spiced Berry to Pick Me Up Peach and Mountain of Mango. The café is also equipped with a new Inca Rain Tea maker that steeps a perfect cup in 90 seconds. The brewing process features dancing water streams that add artistic flair to the tea ritual.
Inca Tea Café believes in supporting other local companies. In fact, 95 percent of products are locally produced/owned. The expanded menu features local and organic fare such as avocado toast, chia pudding and spinach pies. A new crowd pleaser, Master Toast is made with organic 12-oat bread, local ricotta cheese, preserves, blackberries, honey drizzle and pistachios.
Inca Tea creates products that enrich peoples' health and promote an active lifestyle, as well as respects the environment. All packaging is made from 100 percent recycled material, and tea bags and envelopes are 100 percent biodegradable.
"Travelers get a taste of Cleveland and beyond at the new Inca Tea Café at CLE. It's exciting to see this local business thrive at the airport and expand across the U.S.," said CLE Airport Director Robert Kennedy. "The café boasts healthy food options that celebrate our region and enhance the dining experience at the airport."
Inca Tea Café at CLE hours are Sunday through Friday, 4 a.m. to 8:15 pm and Saturday 4 a.m. to 7:45 p.m.