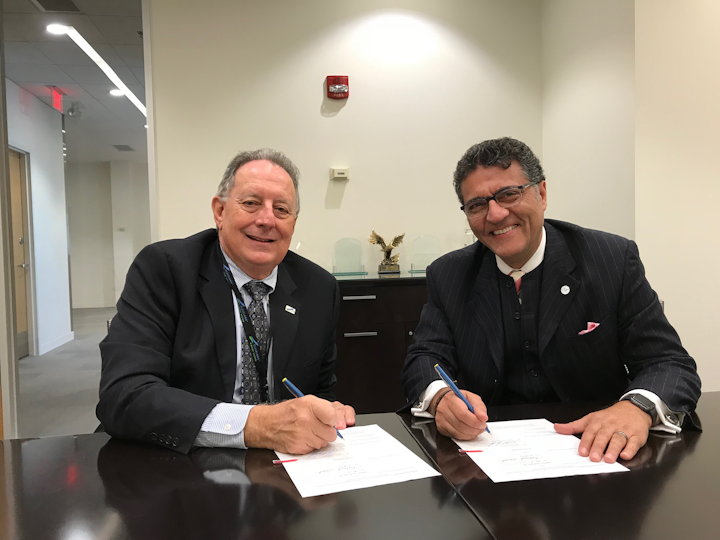 Fraport USA
Airmall Cleveland, a unit of Fraport USA, has signed a five-year contract extension to continue its role as developer and manager of the retail concessions program at Cleveland Hopkins International Airport (CLE), effective Jan. 16, 2019. The agreement covers the design, construction, lease and management of all retail merchandise and food and beverage facilities at the airport's terminals.
"We are pleased to continue our valuable partnership with Cleveland Hopkins International Airport and city and airport officials," said Ben Zandi, president and CEO, Fraport USA. "We look forward to creating more breakthrough opportunities for small businesses and adding to a strong mix of local and national concepts with programs that deliver a best-in-class experience for passengers and the community at large. Building on the momentum of the past year, with steady passenger growth and new air services, Cleveland Hopkins International Airport has a bright future."
Since 2008, Airmall Cleveland has transformed the retail and dining program at CLE by doubling the amount of concessions space to approximately 60,000 square feet with 51 units. Furthermore, Airmall Cleveland has attracted a bevy of new and local brands to create a sense of place, including Great Lakes Brewing Company, Bar Symon, Inca Tea and the Rock & Roll Hall of Fame Museum Store. Concessions employment has also increased by 60 percent, and sales per enplaned passenger are up 88% to $10.46.
Airmall Cleveland has also been successful in creating opportunities for small business owners through the Airport Concession Disadvantaged Business Enterprise Program (ACDBE). These operators account for 45 percent of sales at CLE. Enhancements to the program will include a new outreach and development program and a mentoring program to strengthen the stability of ACDBE and small businesses – thus giving them access to the resources needed to compete successfully in the open market.
"We are excited to further our work with Airmall Cleveland to enhance the shopping and dining experience for visitors at the airport," said CLE Airport Director Robert Kennedy. "We are focused on creating a sense of place that celebrates our region, providing opportunities for local businesses, and delivering a first-rate visitor experience. Given Airmall Cleveland's track record and investment in the success of the concessions program, we know they are ready and able to help us achieve our goals."