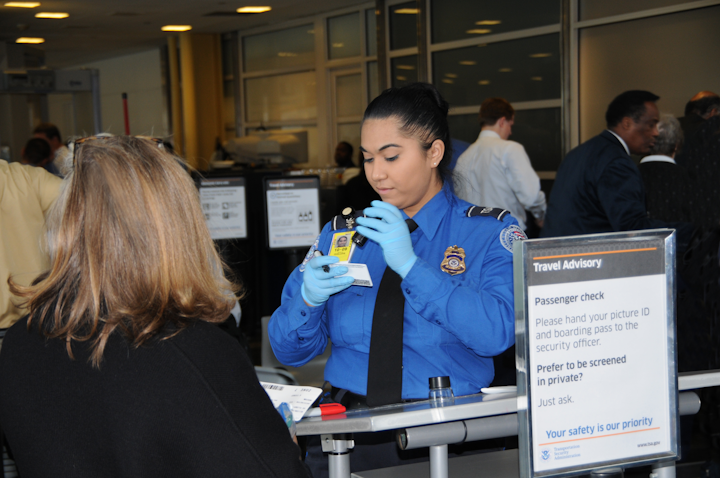 Public Domain U.S Department of Homeland Security (www.dhs.gov.)
President Obama is expected to sign the FAA Extension, Safety, and Security Act of 2016 after the recent approval from the Senate and House. The 14-month extension, also known as the Federal Aviation Administration (FAA) Reauthorization Act, outlines provision and reforms from customer protections to air traffic controllers, and more, that will be put into permanent law.  
Listed below are notable sections in the bill: 
Security
With technological advancements in wireless connectivity both in-flight and in airports, there has been a raising concern over the lack of focus on cybersecurity. This bill calls for the development of a "framework of principles and policies to reduce cybersecurity risks to the national airspace system, civil aviation and agency information systems using a total systems approach that takes into consideration the interactions and interdependence of different components of aircraft systems and the national airspace system."  
This type of framework was a big focus of Sen. Ed Markey's earlier this year when he introduced the Cyber AIR Act, which called a new standard in identifying cybersecurity protections for aircraft and computer systems.
The civil fine for pointing a laser pointer at an aircraft, or it's flight path, is $25,000, a $14,000 increase from the previous penalty of $11,000.  
Double the Transportation Security Administration (TSA) officers patrolling outside checkpoints, accompanied by more K-9 units for sniffing out bombs. 
TSA has certainly put effort into promoting PreCheck this year, and this bill calls for an expansion to enrollment by providing means at airports (like staffed laptops and kiosks) to encourage the public to enroll. \
Eligibility standards for airport worker with access to secure areas will tighten, and there will be more random screenings. 
Allow the FAA to donate security screening equipment to a "foreign last point of departure airport operator" if there is a specific vulnerability to the security of the U.S. or it's citizens. 
Law enforcement at airports, and other mass transit systems, will be trained for active shooter and mass casualty incidents.
Customer Protections
Airlines must refund baggage fees when delayed by 12 hours after a domestic flight, or 15 hours after an international flight when the passenger notifies the air carrier.
Since 2007, there has been a 61 percent decrease in baggage mishandling, according to a 2015 SITA report. And to drop the number even lower, there have been a few technological advancements, from a tracking beacon built into luggage by Samsonite to the baggage handler robot at Geneva Airport. The SITA study noted that 66 percent of airlines said they would be offering bag location updates to passengers via mobile applications by 2017.  
The Secretary of Transportation, currently Anthony Foxx, will need to review a policy directing air carriers to allow children 13 years old or younger to be seats next to accompanying family member over the age of 13 with no additional cost.  
Air Traffic Control
Air traffic control (ATC) operations have been the topic of privatization conversations this year, but the bill does not include any plan to remove control from the FAA in favor of a non-profit corporation. (Don't miss the former secretary of the U.S. Department of Transportation (DOT)'s thoughts on ATC privatization, and the bill, as reported on at AviationPros.com at Joe Petite.)
Standards
The FAA would evaluate and update the standards for crash-resistant fuel systems for civilian rotorcraft, something regulators planned to require all newly built rotorcraft to have in 2015 to reduce risk of leaks and fires. The recommendation for the switch, although critics said it was costly and few manufactures based their designs on the newer FAA helicopter safety standards from the '90s, was based on a 2002 Department of Transportation FAA report which found that crash-resistant fuel systems were effective in preventing helicopter post-crash fuel fires.   
To help tarmac delays, the bill outlines that the air carrier must begin to return the aircraft to a "suitable disembarkation point" within three hours after the main doors of the plane close in preparation for departure, and within four hours in foreign air transportation.   
Drone Regulations
With the ease of accessibility to drones on a consumer level, the need for regulation has been a hot topic this year. The bill outlines the need for requirements on identification, different classifications (including public and civil) and to define the operation of the online database (which, currently, is controversial to some because all the names of drone owners are public record.) The bill calls for emergency exemptions to standard rules, and continued development to a much-need unmanned aircraft systems traffic management system. 
The bill – passed through Senate with a 89 to 4 vote, and approved by the House through voice vote – would extend the FAA policy through Sept. 30, 2017.