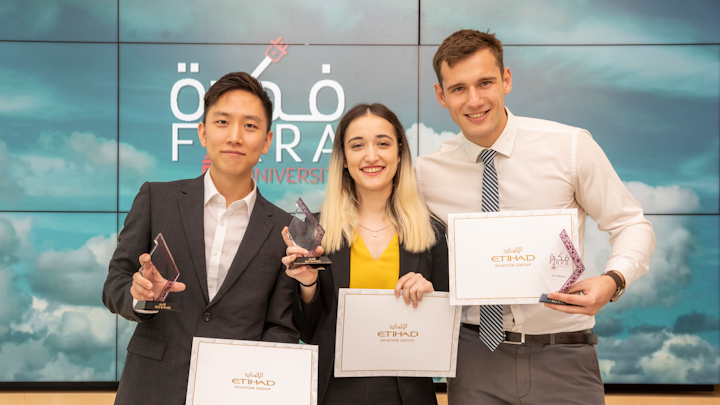 Etihad Airways
Etihad Airways announced the winning team for the popular Fikra University competition, which called on students from across the UAE to share ideas under the theme of 'Seamless travel, endless possibilities'.  
After three months of successful roadshows to universities across the UAE and over 280 entries, six finalist teams attended the Demo Day at Abu Dhabi Youth Hub and presented their ideas to a judging committee that included HE Saeed Al Nazari, Director General, Federal Youth Authority, Tony Douglas, Group Chief Executive Officer, Etihad Aviation Group, other Etihad Aviation Group chiefs and executives from competition partners Cognizant, IBM and SAP Middle East & North Africa.
Vladyslav Cherevkov, Teona Ristova and Sangjin Lee, Team We Love Layovers from NYU Abu Dhabi emerged as the winners, thanks to their idea allowing guests to book a stopover in Abu Dhabi at the last minute, even as late as while they're flying. Guests will be able to select a variety of stopover options from within the in-flight entertainment system and using a QR code, book and pay for their stopover activities. Each guest can book with confidence as the last-minute stopover comes with a "back in time" guarantee so they won't miss their connecting flight.  
Tony Douglas, group chief executive officer, Etihad Aviation Group commented on the talent at the Demo Day, saying, "The quality of ideas presented was impressive, most focusing on finding efficiencies in how we operate, while simultaneously providing a truly seamless experience for our guests. After today, I'm confident that the innovators who participated in our Fikra University competition have bright futures ahead of them, filled with opportunities in their chosen field. Personally, I can't wait for these young idea-preneurs to join the workforce and begin to make an impactful difference for the good of our world."