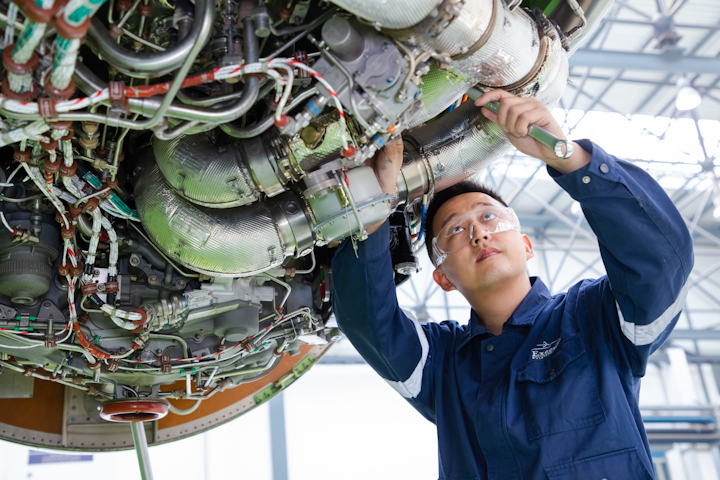 ExecuJet Haite Aviation Services China
In this issue, AMT finishes its global series in the Asia Pacific or APAC region. We'll start with a look at a few maintenance organizations supporting the air carrier segment.
Airline MRO
GAMECO
Guangzhou Aircraft Maintenance Engineering Co.,Ltd. (GAMECO) located in Guangzhou, China, is one of the largest maintenance providers in the region. Their largest customer is China Southern Airlines. They are a 50 percent shareholder, operate a growing fleet of 850 aircraft within the CSN group, and about two thirds of GAMECO's heavy maintenance business is coming from them. They have about 50 other airline customers.
"The MRO demand in Asia, especially China, is strong and growing," said Norbert Marx, GAMECO CEO.  Many airports are under construction or expanding, and airlines are adding new routes and more aircraft. Of course, there is also a lot of competition in the market. I'm concerned that the expansion of MRO capacity, in combination with new generation aircraft reduced maintenance requirements will lead to capacity oversupply in the mid and long term." As for current challenges in the airline MRO space, Marx commented: "Which one shall I pick? War on tariffs, big data, shortage of labor...but I think it is the OEM's entering the market and how the industry will find a fair mode of cooperation, balancing the interests of the OEM's, airlines, authorities and the MRO's."   
AAR
AAR is expanding their footprint in the Asia-Pacific region. They recently obtained certification from the Japan Civil Aviation Bureau to serve Japanese airlines, opening up new commercial component repair capabilities in the region. AAR was also selected by the China-based MRO Ameco to provide long-term support for repair, exchange and leasing services on the Rolls-Royce RB211 engine. AAR also has a customer support team located in Singapore.
One of their fastest growing services, OEM Solutions, has a significant customer base overseas with a high demand in the APAC region for its global parts distribution and supply chain solutions.
Colin Gregory, AAR's vice president of sales, Asia-Pacific, characterized the market as such: "As more OEMs enter the MRO market, it is increasingly competitive, but it is an excellent time to be in the MRO business. With airlines performing exceptionally well and air travel at an exciting high, there is no shortage of opportunities. AAR serves a unique niche in the MRO market in that we provide a wide variety of aftermarket services from a single independent supplier".
Gregory concluded by saying: "Aviation as a business is growing exponentially, and to meet the maintenance demands of the future, the entire global aviation industry needs more individuals to pursue the aviation maintenance field".
AAR is targeting early next year for the launch of their new MRO hangar in Nagpur, India.
MTU Maintenance
MTU Maintenance is a global company with facilities and representatives worldwide with dedicated representatives for the APAC region based in Bangkok, Seoul and Singapore.  
In the region, MTU Maintenance supports airlines from Australia and New Zealand. For instance, they support Virgin Australia with their GE90-115B engines since 2012 and Air New Zealand with their GE90-115B engines, including a lease engine, since 2016. They have held agreements with Airnorth for their CF34-8 engines since 2015 and with Cobham on their CF34-3 and -10E engines since 2009. MTU has also supported various other operators such as Virgin Australia Regional Airlines, Air Vanuatu, Nauru Airlines, Airworks, etc. with engine shop visits, lease support and on-site maintenance services. 
Sami Ben-Kraiem, vice president marketing and sales, Middle East & Southeast Asia, said, "Our business is good and we always look to further enhance our footprint as well as our customer base. We are closely monitoring the fleet developments and are ready to offer tailor made solutions for this particular market, such as solutions for mature engine fleets with cost effective exit strategies, spare engine support to reduce the spare engine investment of our customers and responsiveness to on-site services despite the distance constraints."
The MTU VP characterized the business this way: "Two large challenges are slot availability and material supply. This is due to the enormous growth that the aviation and MRO industries have seen. Engine shops in general are full and planning and foresight is imperative on the part of operators and providers. This is something that has been a key issue in recent years and we are working intensively with our customers to make sure they get the services they need within the timeframe desired. Scheduling and planning shop visit inductions jointly with our customers is imperative in the current environment".
StandardAero
StandardAero has two engine overhaul facilities in the Asia-Pacific region.  In Brisbane, QLD, Australia, they have a Pratt & Whitney Canada  approved PT6A Designated Overhaul Facility. A second overhaul location is located in Singapore. In addition, StandardAero has a C-130J Propulsion System Intermediate Level maintenance facility at RAAF Base Richmond, NSW, Australia, providing engine, propeller and nacelle support for the C-130J Hercules transports operated by No. 37 Squadron.
StandardAero Brisbane's customers are almost exclusively from the Asia-Pacific and are kept busy supporting the needs of local and regional operators. By contrast, StandardAero's PW150A shop in Singapore supports customers from around the globe, including operators from within the local region. Matt Dennington, general manager of StandardAero's Brisbane overhaul facility characterized current business as good and competitive.  2019 has been a strong year for them in the Asia-Pacific region.
Dennington feels that new material availability (i.e. spare parts) is probably the biggest challenge. He says the overall aerospace industry as a whole is in the middle of a boom period, with strong demand for both new aircraft deliveries and MRO of existing in-service fleets. As a result, the industry's engine manufacturers and their suppliers are facing the challenge of ramping up production of new engines at the same time as MRO providers are demanding increased spare parts output to meet operators' engine overhaul requirements. The industry has nonetheless seen an increase in TATs for a number of engine platforms. 
Business Aircraft MRO
ExecuJet Haite Aviation Services China Co., Ltd.
Founded in 2010, ExecuJet Haite Aviation Services China Co., Ltd., is a full-service business jet facility located at Binhai International Airport in Tianjin, China. The company has a Civil Aviation Administration of China Part-145, European Aviation Safety Agency Part-145, FAA Part-145 repair station, Cayman, Hong Kong, Macau, Bermuda and Aruba approvals to perform various levels of line and base maintenance.
Paul Desgrosseilliers, ExecuJet Haite Aviation Services, China, general manager and accountable manager, said of the company, "Our customers are primarily based in  Greater China, to include aircraft managed from Hong Kong, but probably spending much of their time inside mainland China. The aircraft mix of registrations is quite varied and for us, we typically work at a 50 percent split of Chinese domestically-registered aircraft and 50 percent foreign- registered aircraft over the course of the year."
Desgrosseilliers describes business aviation MRO's capabilities as highly segmented within the Asia-pacific region with the strongest capabilities being heavily concentrated in Singapore because of the early investments made by business jet focused companies and OEM's. He explained, "China's business aviation maintenance market is still in its developmental stage, though pockets of growth and maturity can be seen in cities such as Beijing or Tianjin. The complexities associated with part availability inside China and required corresponding certification can be difficult to obtain given the diverse fleet and varying requirements for a CAAC Form 037, EASA Form 1 or FAA 8130 for new or used parts. With many of these parts coming from parts depots located abroad, with duties and transportation charges on acquiring these parts have been historically burdensome to the China mainland MRO."
As with any new industry, finding and allocating the time and resources to train engineers and support staff is a hurdle that many facilities inside Asia still struggle with today. This has certainly improved over the last decade as many local engineers have added both type training and actual hands-on experience and now carry many different aircraft types on their license. ExecuJet Haite focuses on developing local talent, initially training the engineers abroad with the OEM's and then taking part in an intensive in-house training and skill development program. The focus is now on talent retention as these engineers are highly sought after by competing MRO facilities and customer operators.
Gulfstream Aerospace
Gulfstream Beijing, which has provided support for more than 1,100 aircraft visits since opening its hangar doors in November 2012, has grown to approximately 50 employees, nearly half of which are mechanics and technicians. The site has maintenance approvals from China, Hong Kong, Macau, the U.S. Federal Aviation Administration, European Aviation Safety Agency, Guernsey and the Cayman Islands. Its focus is on regular inspections of most Gulfstream large-cabin aircraft and line maintenance for all Gulfstream aircraft.
A warehouse on site includes more than $2 million in parts and materials. Overall, Gulfstream has a parts inventory of approximately $55 million in Asia Pacific; parts are available in Beijing and Shanghai, Hong Kong, Singapore and Melbourne.
Jet Aviation maintenance facilities in Hong Kong and Singapore, both Gulfstream-authorized service centers, are valuable complements to the capabilities offered at Gulfstream Beijing. Gulfstream's Asia Customer Support Contact Center near Hong Kong International Airport, includes a computer maintenance program analyst, an over-the-counter parts sales and warranty specialist and a regional sales manager for Customer Support. Hong Kong, which has the largest concentration of Gulfstream aircraft in the region with more than 60, is also where company-authorized warranty facility (AWF) Metrojet is located.
Most customers who visit Gulfstream Beijing, and Gulfstream's-authorized service centers and AWFs are from the Asia-Pacific region. Gulfstream agrees the biggest challenge faced by the business aviation industry in Asia Pacific is the short supply of experienced aircraft mechanics.