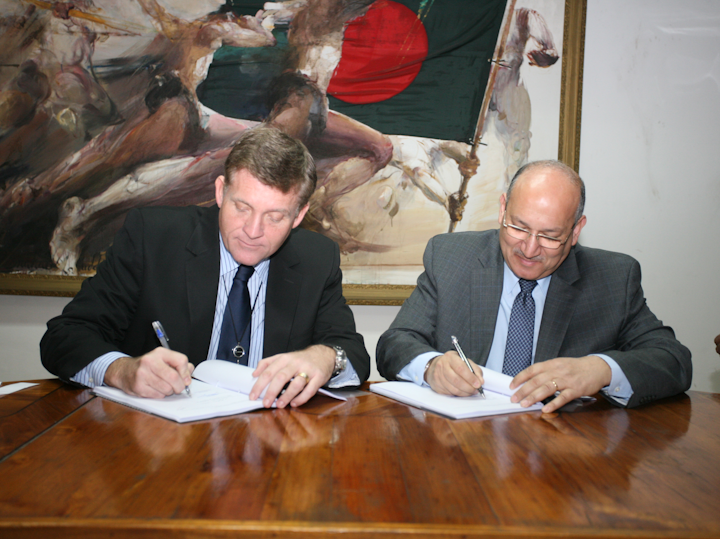 Biman Bangladesh Airlines
Dhaka, 18 February 2015: Biman Bangladesh Airlines confirms that it has signed an agreement on 17 February 2015 with Smart Aviation, Egypt for two Dash8-Q400 aircraft. The aircraft will be taken into the Biman fleet under the terms of the 5 year agreement on a dry lease basis. The aircraft will be operated by Biman flight and cabin crew. The agreement was signed by the airline's Managing Director & CEO with the Chairman & CEO of Smart Aviation on behalf of their respective company.
Each aircraft is in a single class seat configuration with 74 seats. The aircraft will arrive in Dhaka late March and will enter into commercial services shortly after. The aircraft will be used to grow and develop the carrier's domestic flight network within Bangladesh.
Kyle Haywood, Biman's Managing Director & CEO in a statement said 'We want to thank the team from Smart Aviation, our own team and the regulatory authorities here in Bangladesh for working so hard to bring this to a successful conclusion. We are delighted to be adding these aircraft to our fleet. It allows us to significantly improve both the frequency on existing domestic flights as well as add a number of new domestic services. We will be announcing our new domestic operations, effective 06 April, very shortly'.
With the acquisition of the said two Dash8-Q400s, the number of aircraft in Biman fleet stands at 12, i.e four Boeing 777 300ERs, two Airbus A 310s, two Boeing 777 200ERs, two Boeing 737 800s and two Dash8-Q400s.