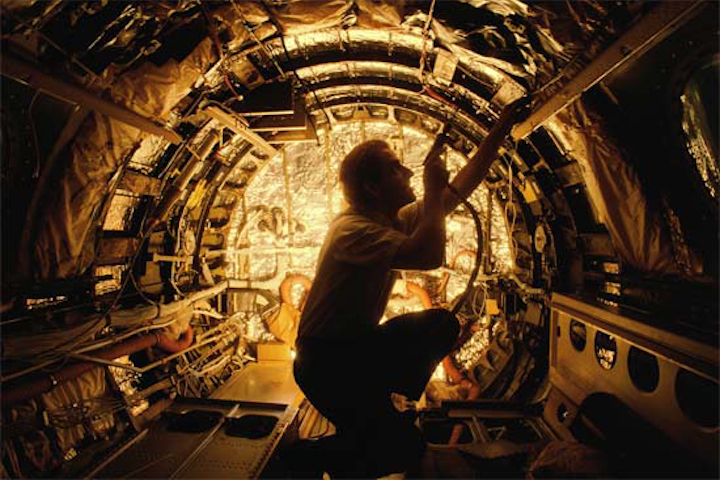 NEW YORK, Sept. 11, 2013 /PRNewswire-iReach/ -- Twelve years after Jihad terrorist hi-jacked Boeing built planes to attack the Twin Towers in New York City, flight safety is still a major concern, according to Daryl Guberman, a quality consultant professional and President of Guberman-PMC, LLC. It is the opinion of Guberman that together, a number of well-known aviation manufacturers, major registration companies, and the country's largest quality systems accreditation body, have been increasing profits by neglecting quality and therefore possibly compromising safety for airline passengers and crew. These manufacturers, according to Guberman-PMC's research are mostly ISO9001:2008 & AS9100 Rev C certified by and overseen by the major registration companies, which in turn are under the guidance of the country's largest quality systems accreditation body.
(Photo: http://photos.prnewswire.com/prnh/20130911/MN77388)
Guberman-PMC has been researching the matter for nearly two years after a Bloomberg report shown that Dozens of suspected counterfeit parts have been installed on U.S. defense equipment from Raytheon Co. (RTN), L-3 Communications Holdings Inc. (LLL),  Lockheed Martin Corp. (LMT); and Boeing Co. (BA), including aircraft deployed to Afghanistan. The Bloomberg report is located at http://www.bloomberg.com/news/2011-11-07/counterfeit-parts-from-china-found-on-raytheon-boeing-systems.html
On July 19, 2013, Mr. Guberman mailed a certified letter to the lead of the International Aerospace Quality Group (IAQG), expressing his concern about the possibility of poor quality and suspect parts in aircraft as a result of current ISO registration and auditing practices of these closely affiliated organizations. Specific discussions of these mutually assisting business entities can be found on the Guberman PMC, LLC web site. According to Guberman, his staff has yet to receive an official response from IAQG after nearly two months. Details of Guberman's letter raising this serious question can be found at http://dguberman.com/still-no-response-from-iaqg-as9100-lead-for-flight-safety-concerns/
"Quality is broken in aerospace, automotive, medical, and other industries because the ISO/AS/TS certification process is fundamentally flawed and controlled by a monopoly that appears in theory to be operating as independent entities under the names of ASQ, ANAB-ANSI, Oasis, SAE, IAQG, and NADCAP, at least this is my observation." said Guberman. He continued, "All major registration companies operating in the United States are in fact overseen by a single accreditation body located in Milwaukee, Wisconsin, ANAB-ANSI, RABSQ AND ASQ reside under the same roof at that location.
According to the Guberman-PMC research, ANAB-ANSI is paid an annual fee by the very registrars they are to oversee, and for each ISO derivative, and also paid percentages of money against overall income. Guberman said he believes that major conflicts of interest throughout the accreditation process are causing this, and that is why it appears that quality is being compromised in order to funnel millions of dollars to participating organizations, including organizations identified as non-profits. Detailed information along with case histories that have led Guberman to these opinions can also be found in the article, "The ISO Certification Process Is Fundamentally Flawed," at http://dguberman.com/ISO-Is-Fundamentally-Flawed.pdf
In addition to the IAQG, on August 5th Guberman has contacted top officials of the FAA to question further the inaction of the IAQG (International Aerospace Quality Group) and query them about the struggle to maintain quality in a 'monopolized industry of quality.' Guberman said he is still waiting for a response from the FAA. Guberman's letter to the FAA can be seen at http://dguberman.com/Guberman_FAA_Flight_Safety_Letter.pdf
"Where is the media in all of this, and where does the FAA stand on these issues." asked Don LaBelle, President of the American Machine Shops Network (AMSN). He added, "Sadly, this appears to be a classic case of 'profit over safety' and, if confirmed by the FAA, any such manufacturers knowingly producing unacceptable quality, suspect aircraft parts should be held accountable." LaBelle said that, "He believes that with potentially thousands of lives of airline passengers being risked every day, Guberman's call for a thorough investigation is a critical matter, and the story itself should be covered by every major newspaper and cable news station in the country, and across the globe for that matter." He added, "I'm appalled that the very real possibility exists that aircraft parts manufacturers and their certification bodies could be getting away with potentially risking human life in the name of profit."
Guberman has launched a new blog that has rapidly gained a significant following because it puts the focus on the latest safety issues related to aircraft, automotive, medical, and industrial products. The blog includes riveting stories of safety cover-ups in the aerospace industry, unsanitary practices in food supply, quality problems with military helicopters, the reasoning behind the growing number of airline crashes, engineering disasters, and other safety issues important to numerous industries and the general public, and relates these to problems with the existing certification, registration and auditing organizations and their way of doing business. The blog is open for commentary and is located at http://dguberman.com/category/main_section
About Guberman-PMC, LLC
Guberman-PMC, pioneers of the global grassroots movement 'Quality Over Profit' is committed to bringing integrity back into the quality community. The company is a full-service ISO certification and quality consultation firm owned and operated by Daryl Guberman, a quality professional with over 30 years of experience in the aerospace, medical implants and materials, and printing fields. Throughout his career, Daryl has saved companies substantial amounts in constructive, productivity-enhancing suggestions utilizing special talents including an unrivaled dedication to quality. Companies, organizations and individuals interested in becoming part of the 'Quality Over Profit' grassroots movement can call 203-556-1493 or visit http://www.dguberman.com to get involved.