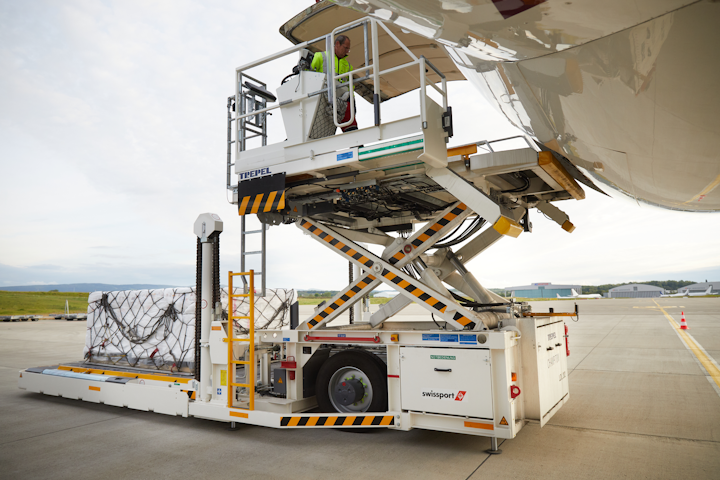 Photo courtesy of Swissport
During recent years, the commercial aviation industry has increased considerably in Argentina. Despite constant crisis scenarios in the country, as the industry itself expanded worldwide, Argentina has not been the exception. Indeed, Argentina's aviation market has great potential in the Latin American region and has taken a more liberalized approach in recent years.
The industry has grown positively, which has created new employment opportunities and it has begun to tackle infrastructural constraints and develop airports.
The Aircraft Ground Handling Industry
"We have seen an increasing number of new airlines entering the market – Norwegian, Flybondi and JetSmart, as well as the development in Buenos Aires of El Palomar' which is the first low cost airport in Argentina. We have also witnessed an approximate 60 percent growth in total domestic passengers between 2015 and 2019," says José Canales, senior vice president LATAM at Swissport. "In our view the domestic market will continue to grow despite the economic uncertainty and low-cost carriers working diligently to expand their networks and increase their presence in Argentina even as currency pressure has depressed international demand."
Canales says the ground handling industry closely follows these growing opportunities, but the industry is somehow limited as it cannot participate in ramp services which are controlled by Intercargo, a government related entity.
"We believe that the monopoly of the ramp, infrastructure constraints and mounting trade union opposition could decelerate growth opportunities in Argentina, if not managed adequately," he says.
Alex Verschoor, CEO of CrossRacer – a partner of Universal Weather & Aviation, points out that while numerous renowned airlines have started flying directly to Agentina (to Ezeiza International Airport in Buenos Aires (EZE), in particular) after several years now airlines have reduced frequencies, but still fly.
"General aviation is not an exception, as the flights flow figures have been in the same trend throughout the years," he says.
Employee Turnover Rates
Employee turnover always has been present in the industry in Argentina, although it has considerably decreased over the last years in direct correlation with the economic crisis.
"Unemployment has increased from 7 percent to 10 percent over the last four years. This notwithstanding, a 10 percent employee turnover is to be expected. Personnel training and professionalization is key to retain personnel, especially the most skillful employees," says Verschoor.
Swissport indeed is not experiencing a high employee turnover rate in Argentina.
"Good recruitment practices, thorough on boarding processes of new personnel as well as close coaching and mentoring from management help maintain a healthy retention rate," says Canales. "This is also influenced by the fact that the current unemployment rate in Argentina is the highest jobless rate since early 2006. Hence employees are taking care of well-paid jobs from international companies such as ours and the 7 percent growth in the aviation industry in Argentina has helped generate approximately 5,600 additional direct employment jobs."
Infrastructural Constraints
The main operational challenge for the aircraft ground handling industry in Argentina is given by the infrastructure constraints, which are typically a challenge in the region, not just in Argentina.
"Due to the fact that domestic and intra-regional traveling has grown at a faster pace than airport infrastructure, the resilience and resourcefulness of our people in the region make it work somehow," says Canales. "We believe that the main challenge the ground handling industry in Argentina faces is agreeing on the national air transport policy in coordination with all the main stakeholders (government, airport operators, airlines, trade union, ground handlers) to build general consensus to guarantee the successful implementation of key initiatives for the development of the industry."
"When we talk about infrastructure, we do not only refer to the airports but also to the national authority agencies. It is fair to say that this has improved in the past years, but it is far from being ideal," adds Verschoor. "As far as general aviation is concerned, there are almost no efficient facilities in airports throughout the country."
A distinctive feature of Argentina is that there are significant differences in terms of the development of aircraft ground handling services between urbanized and peripheral areas of the country. According to Verschoor, this is another infrastructure related constraint.
"In the outback of Argentina, for example, it is hard to find multi-language ATC operators. Not all airports are international, therefore it takes extra time and paperwork to request a domestic airport to become international for a particular flight. Immigration and customs get involved here," he says. "This is an issue especially when time is limited and bureaucracy calls in. It is very important to have enough experience to settle everything in time and to know exactly what it is needed. Under these circumstances, things can be set in a reasonable amount of time."
Canales notes that while Argentina's two leading airports are in the capital of Buenos Aires, Aeroparque and Ezeiza, representing approximately 60 percent of all traffic in Argentina, the remaining top 10 airports, which are in total responsible for just under 90 percent of the nation's traffic, have also shown a level of growth in the last 3-5 years.
"Airports operating close to urbanized areas of the country are obviously growing at a faster rate. But the growth is being experienced in general and just recently Swissport opened up operations in Ushuaia, the capital of Tiera del Fuego and southernmost city in the world," he says.
Argentina has been developing infrastructure investment plans throughout 20 provinces to revamp airport terminals, runways and air navigation systems estimated at $640 million (USD).
"During the last government legislature (2015-2019) there was a clear political decision in improving such issues," says Verschoor. "Now we are facing a government transition period and we are uncertain on the direction this will take, hoping it will be sustained. We are all expectant and optimistic as we all know this is very important for Argentina's economic development, amongst other economic measures."