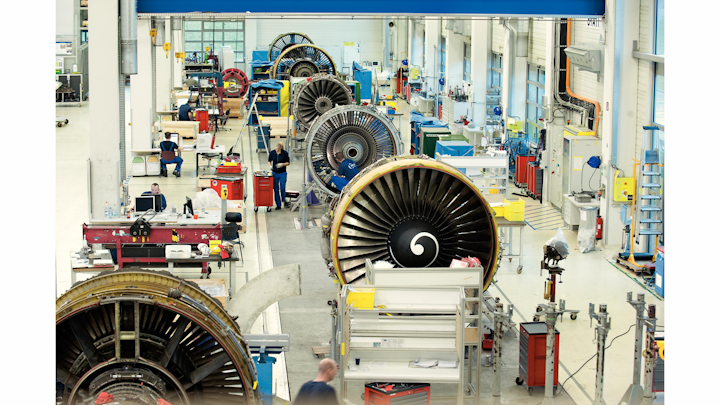 MTU
Hannover, Munich, November 21, 2014 – MTU Maintenance is celebrating its 35th anniversary in the MRO (maintenance, repair and overhaul) business this fall. The company, which has started out as a small repair shop in Hannover, Germany, has today become one of the leading engine MRO providers worldwide. "MTU Maintenance has come a long way and today holds a special position in the MRO market," said Dr. Stefan Weingartner, President MTU Maintenance and member of the Executive Board at MTU Aero Engines. "Through an innovative set of customized services and high-tech repairs as well as a global locations network, we offer customers a true alternative. Our success is based on a hybrid business model as we benefit both from our independent approach and our close alliance to the OEMs in engine programs where MTU is a risk and revenue share partner. We strongly believe that this strategy will continue to be successful, especially for future engine models."
After its foundation in 1979, MTU Maintenance commenced with the repair of the CF6-50 and the LM2500 gas turbine, the CF6-80 and the V2500 were added about a decade later. MTU Maintenance was the first maintenance provider ever to start with the repair of the V2500. With more than 3,500 shop visits, the company is now number one worldwide for MRO work on this engine type.  MTU's competence was well respected and its customer base grew fast. Customer proximity thus became its first priority and with that the company's global expansion. First, MTU Maintenance Berlin-Brandenburg opened, specializing in industrial gas turbines and Pratt & Whitney Canada engines, as well as the CF34 family. MTU Maintenance Canada focuses on the repair of CF6-50 and CFM56-3 engines and specializes in accessory repair. In 2001, MTU Maintenance Zhuhai was founded, a joint venture between MTU and China Southern Air Holding Company, China's largest airline. The location deals with V2500, CFM56-3, CFM56-5B and CFM56-7 engines. In 2012, it extended its main engine repair shop to increase capacity by 50 percent. MTU Maintenance Zhuhai is market leader in China and on the leap to become Asia's leading MRO provider.
With over 20 different engine types, MTU Maintenance has one of the largest engine MRO portfolios worldwide and is continuously adding new engine types in order to offer customers the most popular variants. For example, MTU is one of the few maintenance providers with a full repair license for the world's largest engine – the GE90-110B/-115B – including the testing of the engine. Furthermore, MTU is planning to hold on to its successful cooperation with the previous IAE partners beyond the V2500 program: The collaboration that proved its worth for the V2500 is to be continued in a joint venture for next-generation engines for the narrowbody market segment. The new joint-venture company will specialize primarily on providing MRO services for the Geared Turbofan™ (GTF) engine technology.
Engine maintenance and globally unique high-tech repairs, developed in-house and marketed under the trademark MTUPlus repairs, are not the only key to success. MTU Maintenance stands out for offering its customers cost-efficient service packages and customized MRO solutions which consequently follow the customers' individual needs. Among these are on-site and on-wing services, spare engine support as well as accessory and LRU management. This broad range of comprehensive services can be combined under MTU's all-encompassing modular service package Total Engine Care (TEC), guaranteeing customers carefree operations of their engines.
With the increasing demand for leased engines, MTU Maintenance has recently expanded its existing engine lease business. MTU Maintenance Lease Services B.V. was founded early this year as a joint venture with Japan-based Sumitomo corporation. With the new joint venture structure, additional engines, including the GE90, will be added, allowing MTU Maintenance to increase its foothold in the engine lease business significantly.
The latest addition to MTU's portfolio are material and asset management services, which help customers get the most value out of their engines at or near the end of their operational life. The aim is to maximize the residual value from either the resale or reuse of the engine as a whole, or of its individual parts. As such, the focus is not on just tearing down the engine, but on finding modular integrated and flexible solutions. The portfolio of services spans the entire process from the appraisal and analysis of the residual value, the re-marketing or re-lease of the entire engine, to extensive parts management. Services include engine teardown, the repair of reusable material, the storage and reuse of serviceable material, and the sale of surplus or otherwise redundant parts to third-party customers. With this offer, customers now benefit from reduced MRO costs and an optimized income from their engines at the end of their life cycle.
In the future, MTU Maintenance will be facing a great change in the civil engine business. OEMs are increasing their presence in the aftermarket. They offer customers so-called long term service agreements which over the time have become part of the contract for new engines. "This trend leads to a closer cooperation between our manufacturing and maintenance business," says Michael Schreyögg, Chief Program Officer and Member of the Executive Board. "We are therefore planning to combine our OEM and MRO activities more closely." As an independent maintenance provider and a risk and revenue share partner for many important engines types, MTU has access to both aftermarket segments. "We want to further dominate the independent segment and will continue to offer a broad portfolio of repairs, services and competences," adds Weingartner. "In addition, we want to offer our services as a partner to the OEMs in order to participate in this growing market as well."
About MTU Aero Engines
MTU Aero Engines is Germany's leading engine manufacturer and is an established global player in the industry since 80 years. It engages in the development, manufacture, marketing and support of commercial and military aircraft engines components and industrial gas turbines. The company is a technological leader in low-pressure turbines, high-pressure compressors and manufacturing processes. Figuring significantly among MTU's core competencies are the maintenance, repair and overhaul (MRO) of commercial engines and the service support it provides for industrial gas turbines. These activities are combined under the roof of MTU Maintenance, which is one of the world's largest providers of commercial engine MRO services. MTU operates affiliates around the globe; Munich is home to its corporate headquarters. In fiscal 2013, the company had a workforce of some 8,700 employees and posted consolidated sales of some 3.7 billion euros.