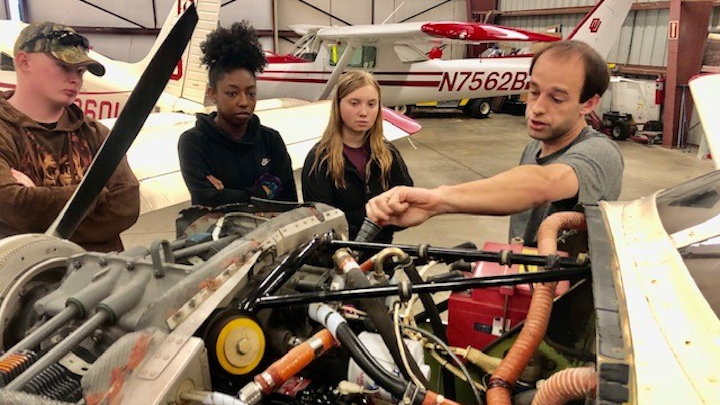 AOPA
Boeing's Pilot and Technician Outlook 2019-2038 casts a long shadow on the state of aviation. It exposes a need for 212,000 new pilots and 193,000 new aircraft maintenance technicians by 2038 in the U.S. alone.
The report warns that the technician shortage may limit aviation's growth as maintenance companies pass on facility expansions and turn down work. Boeing finds the industry needs mechanics, sheet/metal structures technicians, welders, machinists, painters, composite technicians, fuel cell technicians, avionic specialist electricians, non-destructive testing experts and inspectors.
The salaries of these professionals are competitive. In fact, the Bureau of Labor and Statistics' Occupational Outlook Handbook reports a $63,060 median salary for aircraft and avionics equipment mechanics and technicians, which is on par with salaries in other careers.
The reasons for the shortage lie elsewhere. Low unemployment, a preference for four-year degrees over trade certifications and a lingering belief that mechanical occupations are dirty jobs all contribute to the shortage of skilled labor.
But a new day dawns, as younger generations increasingly realize the value of skilled-labor jobs. States also are renewing efforts to fill the skilled labor talent pipeline before the shortage becomes more acute. These changes come alongside a growing awareness that a two-year degree and professional certifications can lead to lucrative and meaningful careers.
A shining star in the renewed efforts to fill aviation's labor gap is happening in Oklahoma. Here, aerospace is the state's second largest and fastest-growing industry. The Sooner State, which needs to fill 5,000 additional aerospace jobs in the next few years, is taking a proactive approach to a growing problem and leading the way for others to do the same.
Important to the Economy
Oklahoma's rich aviation and aerospace heritage goes back to the early days of flight. Since then, it has grown to where the state has more than 135 public-use airports, 5,716 registered aircraft and 9,634 active pilots, reports Oklahoma Sen. James Inhofe.
The state also serves as home to American Airlines' Tulsa Engineering and Maintenance Center, the largest aircraft repair facility in the world, and Tinker Air Force Base, the world's largest military aircraft repair facility. And, the nerve center of the nation's air transportation system — the Federal Aviation Administration's Mike Monroney Aeronautical Center, sits in Oklahoma City.
These offerings combine into an industry that contributes more than $44 billion annually to the state's economy.  
"Investments in aviation and aerospace have helped local communities grow and take off — providing well-paying jobs and opportunities to countless individuals, small businesses and families across the state," Inhofe said. "As an active pilot, I see first-hand the value of these investments when I visit Oklahoma airports every weekend."
Though the state's aviation economy thrives, growth comes with a dark side. "According to our research, the aerospace sector will require a minimum of 6,900 additional jobs annually," explained Brent Kisling, executive director of the Oklahoma Department of Commerce. "While this is not a problem that's unique to Oklahoma, it is something we're facing and working to deal with. Oklahoma's CareerTech and colleges are addressing the problem and their efforts will help us keep a pipeline of talent available for this industry."
Address the Problem
It's been said the success of any industry rests on a three-legged stool, with one leg represented by industry, another by academia and a third by government. If one leg breaks, the stool will topple.
The State of Oklahoma's work to address the aviation labor shortage is a lot like this three-legged stool. The state keeps its aviation and aerospace stool strong through efforts involving industry, academia and government.
"The approach is multi-faceted, but I am proud of the collaborative way industry, government and education are working together to create pathways to aerospace careers for Oklahomans," Kisling noted. "For example, the Oklahoma Department of Commerce launched the Oklahoma ACES (Aerospace Commerce Economic Services) Program, established by the state legislature. The primary goal of ACES is to create and implement a common statewide strategy for the growth of the aerospace industry. This team is in the field nearly every day, talking to Oklahoma aerospace companies and trying to understand the issues they are facing and developing strategies to address them."
Victor N. Bird, director of the Oklahoma Aeronautics Commission agrees. "Academia provides the pipeline of skilled workers that are the lifeblood of the aerospace industry. A successful partnership between government, industry and education has been critical to the viability of the aviation industry," he stated. "The hallmark of this partnership has been the willingness of all parts of academia, higher education, common education and career and technology education to listen to the industry and respond to this need."
State-Led Efforts
Oklahoma Works, an innovative workforce development program, helps meet the demand for skilled workers in aviation. The state-initiated program establishes partnerships between industry and academia and creates a pipeline of educated/skilled workers that aerospace companies can recruit from.
The state also supports the aerospace sector with several unique tax incentives designed to attract companies and investments. Its Aerospace Engineer Workforce Tax Credit, the only one of its kind in the nation, provides a $5,000-a-year tax credit to engineers hired into the aerospace industry. The tax credit program also gives companies that hire engineers a 10 percent tax credit for hiring in-state graduates and a 5 percent tax credit for hiring from other states. Companies also receive a 50 percent tax credit for reimbursing tuition costs.
"The tax incentives are valuable tools for Oklahoma aerospace companies to use when recruiting talent," Bird said.
In fact, a review by the Oklahoma Incentive Evaluation Commission found the tax credits have generated 4,200 new jobs paying up to $80,000 a year. The credits also led to 17 percent growth in aerospace engineer employment across the state.
Oklahoma also helps companies by not imposing a sales tax on MRO transactions, which provides a competitive advantage to AAR Corp. and other aviation companies. "Our legislature put this in place to ensure the viability of our industry with unequivocal support from our governor and congressional delegation. And, Oklahoma is among the Top 10 states in the nation for the lowest costs of doing business, lowest costs of living and best incentives in the country," Bird explained.
Push for Education
"The competition for young people is intense among industries," commented Bird. "This is exacerbated by low unemployment rates. It is imperative that we expose young people to the wonder of aviation and aerospace at an early age so they too are inspired by these wonders and realize that they can be part of something much bigger than themselves."
The Oklahoma Aeronautics Commission teams with the Aircraft Owners and Pilots Association's (AOPA), the State Department of Education and schools across the state to grow interest in aviation. Through this partnership, 16 Oklahoma high schools have added an AOPA program meant to introduce students to aerospace and aviation. Some schools offer pilot tracks, while other offer unmanned aircraft tracks or implement both.
The four-year AOPA program offers students one class per semester, beginning with the fundamentals of aviation and aerospace and ending with students being prepared to take either the FAA Private Pilot written exam or the FAA Part 107 Drone Pilot Exam. The progressive series of hands-on and exploratory lessons develop student knowledge of aerospace concepts and problem-solving STEM skills, including principles of physics and design, aircraft systems, safety and operations. Though some students have worked with local Experimental Aircraft Association (EAA) chapters to take flight lessons, the program aims to generate interest in aviation and introduce students to aviation opportunities.
"We are third in the country in these efforts, behind Kentucky and Texas," explained Bird. "The AOPA curriculum is preparing young people to pursue aviation and aerospace degrees in higher education or to seek aviation careers after high school. Several other schools are likely to implement the curriculum soon."
The Oklahoma Aeronautics Commission supports aviation education programs through its Aviation and Aerospace Education Grant Program. The commission also serves as a conduit to help high schools connect with local aviation companies and EAA chapters.
"The Aeronautic Commission invests $300,000 annually in 39 aerospace and aviation education programs across the state," Bird said. "Our aviation program is recognized annually and no other state invests as much in its respective program."
With Oklahoma being one of seven centers in the world for MRO, the educational efforts are critical, reports Bird.
"MRO is the heart of our industry," he said. "[The state could not meet the demands for MRO] without the career and technology education offered in the 29 CareerTech school districts in the state, including seven airframe and power plant programs, with another one coming soon."
Tackle the Stigma
There's long been a stigma attached to doing mechanical work. Some people view skilled labor as a low-paying, dirty job. But this is far from the case in aviation, reports Bird.
The State of Oklahoma is taking outdated notions about skilled labor through industry partnerships and outreach, which Bird explained "can inform our young people that skilled labor jobs in aviation and aerospace range in pay from $40,000 to $80,000 or more, and can support a very good quality of life in Oklahoma."
Bird says industry partnerships must expose young people to aviation work in action. "Skilled workers performing a heavy maintenance check on a 737 at the American Airlines base or a B-52 at Tinker Air Force Base aren't just repairing an aircraft, they are in the business of saving lives, and in the latter case, helping to ensure our national security," Bird said.
He adds education programs must showcase aviation workers as builders. "They make the concepts that scientists and engineers design, realities," he said. "The Wright Brothers were engineers and skilled workers. They built their concept and brought it to life — the first controlled, heavier-than-air powered flight. Not bad for a couple of bicycle repairman!"
The state communicates this message to parents, young people and educators through social media, traditional media, educational offerings and more.
Boeing's Pilot & Technician Outlook 2019-2038 predicts trouble taking off. But through state, industry and educational partnerships, the State of Oklahoma hopes to land safely, with a workforce ready to take its aviation and aerospace economy on a journey toward the future.
Ronnie Wendt is a freelance writer who lives in Waukesha, Wis. She specializes in writing about aviation- and aerospace-related topics. Developing a skilled labor force is her passion, and she writes on this topic for the education, aviation, trucking and RV industries.