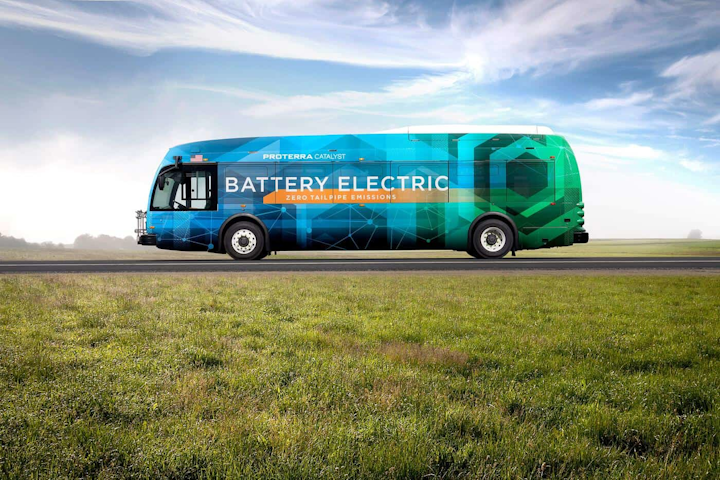 Proterra
Airports across the nation are searching for ways to make their operations more sustainable. The electric option is paving the way for many in the aviation industry, from plane to ground support equipment making the switch. And now, with help from Proterra, the way passengers get from the airport to their destination on the ground is also going green with electric buses.
Named Catalyst, Proterra's line of electric buses have been adopted by airports around the country, such as JFK, LaGuardia, Newark and San Jose Airport. The buses come in two sizes: a 35 foot, which has about 29 seats, and a 40 foot, which has 40 seats approximately with room for standing. The buses also allow for different storage and kilowatt hours battery configurations, which are tailored to an airports needs by a route analysis that Proterra performs.
"The first question we get asked from a customer interested in exploring electric buses is 'how far does a bus go?' And my response back is let's find out how far you need it to go,"
said Bill Williams, commercial sales director at Proterra. "When an airport is interested in electric buses for ground transportation, the first thing we do is perform a detailed route simulation and total cost of ownership analysis to help determine the onboard energy storage and drivetrain configuration to meet your route needs. We have a GPS device that we loan to track the distance and speed needed for the route. It also has an altimeter in it so we can track the hills and get an accurate measure of expected range for an average day."
Compared to diesel powered buses, which get roughly four miles to the gallon, Proterra's electric busses get five times the amount comparatively on the same route – up to 25 miles per gallon equivalent.
"The Proterra Catalyst electric bus has unmatched performance with nearly twice the horsepower of a standard diesel bus and five times better fuel efficiency," Williams said. "On top of that, the bus has zero tailpipe emissions and eliminates about 230,000 pounds of CO2 annually for every diesel vehicle replaced."
Aside from helping an airport meet its sustainability goals, other benefits of a Catalyst bus are an improved passenger experience and reduced costs.
"An airport situation it's unique, because you have exposure to a lot of riders that are not daily bus riders. Having a clean energy bus without diesel fumes coming out or the loud noise of a fossil fuel bus is one of the most attractive parts," described Williams.
Williams continued: "The savings' aspect is also key for airports. Battery-electric buses have low operational lifecycle cost. There's 30 percent fewer moving parts compared to a big diesel bus with the transmission and filters and valves and tune-ups and exhaust systems. So, it's a good return on investment more than just buying the standard fossil fuel buses."
Proterra will also work with airport customers to help manage the upfront cost of electric buses by identifying a grant, loan or financing program. Proterra currently offers battery leasing, which enables customers to buy a Catalyst electric bus for roughly the same price as a diesel bus and put the operating savings toward the battery lease. Proterra is also then responsible for the performance of the batteries through the life of the lease, removing operator risk.
Further, Proterra partners with airports to apply for the Federal Aviation Administration Airport Zero Emissions Vehicle and Infrastructure Pilot Program, which grants funding to airports for the purchase of zero-emission vehicles and infrastructure with the goal of improving airport air quality and reducing airport facilities' carbon footprint.
One thing an airport needs to keep in mind when looking to adopt an electric option for their ground transportation needs is the supporting infrastructure needed for electric vehicles. Williams said that Proterra helps an airport through the process of making sure their equipped to handle the needs of an electric bus.
"It's important to begin the planning process early so airports can map out where their charging infrastructure will be placed and how much energy is needed for their electric bus fleet. We recommend engaging with your local utility as early as possible, which Proterra can help you do," said Williams.
Proterra recently introduced its Proterra Energy fleet solutions which includes a full suite of solutions to enable the delivery and management of an energy ecosystem for electric vehicles. This includes Proterra charging systems, turnkey charging infrastructure installation from experienced engineers, connected vehicle intelligence for smart energy management and financing opportunities.
"With our infrastructure team, we really try to overcome any objections, and hurdles and obstacles to them adopting, and going electric," said Williams.
Proterra said that feedback from airports utilizing their busses has been positive, with more orders from existing customers and new airports adopting the Catalyst in the works.
"With today's technology, I don't think any vehicle, from the tarmac to terminal transportation to the rental cars, should have a tailpipe. Ground support equipment, buses that move people from the international to domestic terminals, are all going electric," said Williams.