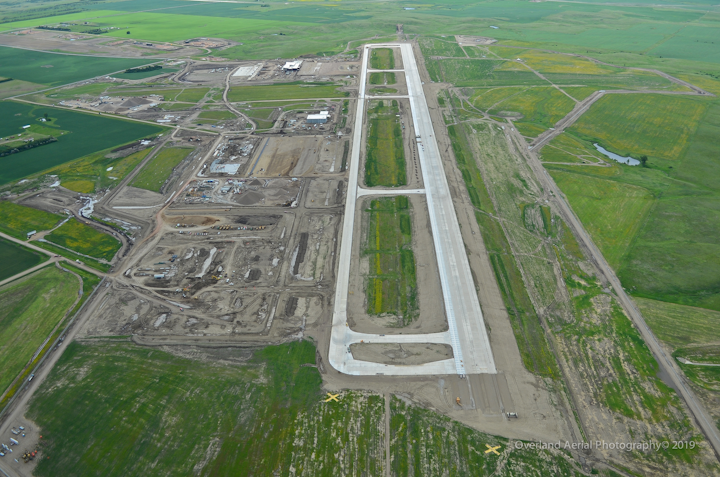 Overland Aviation
Ground-up new commercial airport projects are relatively rare. Which is why the new Williston Basin International Airport (XWA), opening this Fall in Williston, North Dakota, represents such an intriguing opportunity to explore the obstacles and opportunities that are a part of any aviation project of this size and complexity.
From the unique way the project team came together, to challenges ranging from a skilled trades gap to working around North Dakota's extreme weather, XWA provides a fascinating behind-the-scenes look at what it takes to bring a ground-up airport project to fruition in today's day and age.
A sorely needed facility
XWA is the first ground-up airport built in the region in nearly three quarters of a century. The facility it will be functionally replacing is Sloulin Field International Airport, which dates to 1947. The outdated airport has exhibited significant wear and tear over 72 years, from a primary runway in need of reconstruction, to an incapability of handling the increased volume of traffic in recent years. Sloulin was designed for small propeller-driven aircraft with 30 passengers or less. When Delta and United both commenced jet service to the airport in 2012, the 50-passenger regional jets were more than twice the weight of what the runway was designed to handle. The result was severe pavement degradation and skyrocketing maintenance costs. A correspondingly dramatic up-tick in enplanements in 2012 brought the annual average of around 10,000 passengers to a remarkable 120,000 by 2014. While the commercial terminal had been built in 2005, it was simply unequipped for 10 times the capacity it had been designed to handle. While activity slowed somewhat in 2016-2017, Delta recently added a third flight from Williston, United added a fourth, and the resulting 39 percent increase in seats that are flying out of the facility in 2019 once again makes Williston one of the 10 fastest-growing airports in the nation.
Add in the fact that the site was surrounded by businesses and residential development that limited expansion options. Uneven terrain, including a 90-foot elevation change from one end of the runway to another, also adversely impacted aircraft takeoff performance. The need for an entirely new airport was clear.
Yesterday and tomorrow
XWA Airport leadership contributed to the conversation about the design of the new airfield and related infrastructure. The goal was to create a "right-sized" facility that would meet the region's needs today, while maintaining critical flexibility for future expansion if needed. The new airport terminal, built on 1,600 acres 10 miles northwest of Williston, is around 100,000 square feet—almost 10 times the size of its predecessor.
Labor and logistics
Work began on the project in 2010. When operations commence on Oct.10, it will be the fastest commercial service airport relocation since World War II. This extremely aggressive schedule required assembling and managing a large team of professional service firms. It also required a steady supply of skilled labor — which wasn't always easy to come by. Regional competition for energy and infrastructure projects, and an improving national economy that prompted some newcomers to return to their home markets, further thinned the skilled labor market. The city commission's decision to move forward with a construction manager at-risk for all vertical structures, specifically the commercial terminal and aircraft rescue, firefighting and snow removal equipment facility, mitigated some of the labor supply difficulties by ensuring the participation of a firm that's skilled at identifying and managing those trade partners.
Labor wasn't the only challenge facing the project. Famously harsh North Dakota weather took its toll. The 2018 winter included record cold, forcing the project team to halt construction on the airport's paved surfaces to comply with FAA guidelines. Cool temperatures this spring also delayed the project timeline requiring meticulous planning and patience from project partners.
Coordination and logistics
Creating what is essentially a small city in the prairie in a relatively a short time span requires extraordinary coordination and communication to optimize safety and efficiency. A dedicated program coordination team led by Fargo-based Ulteig Engineering and Grand Forks-based AE2S coordinated the 20-30 contracts all being executed at the same time, and the multiple engineering firms operating concurrently. Additionally, the city of Williston contracted Cardon Global to act as an owner's representative and put another set of experienced eyes on the project.
Design and amenities
XWA includes all the modern amenities that travelers expect in this day and age. The airport has four gates and three passenger boarding bridges, eliminating the need to walk outside in 40-degree-below-zero weather. The airport also features new space for check-ins, an unmanned exit lane, two new baggage carousels, and additional space for rental car facilities.
A combination of practical considerations and thoughtful aesthetics further distinguishes the design. A curved front curtain wall avoids an industrial or utilitarian feel, as does the terrazzo flooring throughout the terminal. A butterfly roof allows a lot of natural light into the heart of the facility, which also features the only two escalators in Williston! A full restaurant and bar in the center of the concourse offers visibility through to the airfield beyond, and a retail shop will offer a mix of sundries and samples of local artisans' craftsmanship. XWA even includes a full children's play area.
Civic and community support
A collaborative public/private partnership, and extraordinary civic and community support from the Williston City Commission, has been pivotal in delivering the financial and logistical support to make the project happen. Partners from the FAA and the North Dakota Aeronautics Commission to the state of North Dakota have contributed key planning and financial support. A project of this size, speed and complexity wouldn't have been possible without all parties pulling in the same direction. Political figures like Williston Mayor Howard Klug, Kyle C. Wanner, director of the North Dakota Aeronautics Commission, current North Dakota Senators Cramer and Hoeven, and former Senator Heitkamp, have all been passionate XWA advocates and supporters.
Economic impact
A North Dakota Aeronautics Commission economic impact study in 2015 found that, even with all of its operational limitations, Sloulin Airfield had an economic output of over $209 million annually. That already dramatic impact is set to skyrocket with the new XWA facility and increased volume. XWA is a critical piece of civic and community aviation infrastructure: essential for the future growth of the City of Williston and for the region as a whole.
---
Anthony Dudas is the Airport Director for the new Williston Basin International Airport opening in Wiliston, ND this fall. For more information, visit www.xwaproject.com.