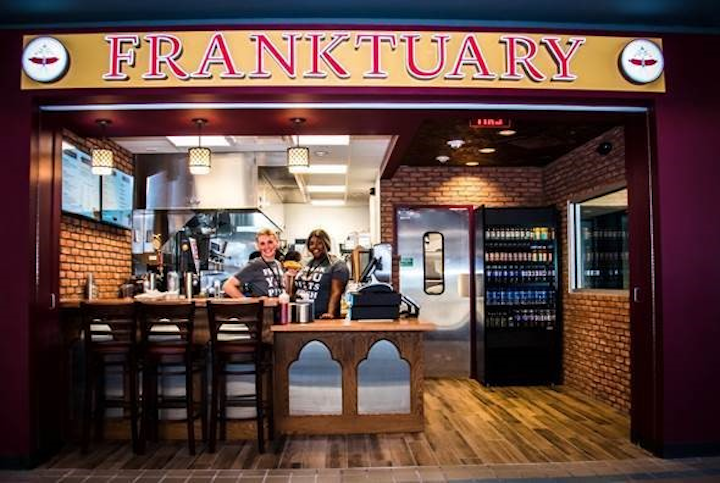 Allegheny County Airport Authority
The food scene at Pittsburgh International Airport (PIT) continues to expand. Three new concepts, from local favorites Franktuary and Melt Shop to global hit Joe & The Juice, have opened recently, much to the delight of hungry visitors.
"We have emphasized 'creating a sense of place' here at the airport by adding local brands to our concessions, but it is just as important that we embrace Pittsburgh's rising presence on the world map," said Eric Sprys, chief commercial officer for the Allegheny County Airport Authority, which operates PIT. "These new concepts bring local, national and international followings with them, and we're excited to add that kind of diversity to our concessions roster."
Franktuary –This Pittsburgh original first started slinging its signature franks in the historic Trinity Cathedral. Now the famous franks, all topped with locally sourced and ethnic condiments, plus starters, salads, sides, draft beer and more are featured at its first airport store in Concourse B.
Melt Shop – Founded in New York City, Melt Shop is a melted sandwich restaurant that uses only the best ingredients. As the pioneers of the melted sandwich movement, the new restaurant in the Center Core brings a variety of melted sandwiches, tots, tenders, breakfast, beer, wine, and shakes.
Joe & The Juice – The new juice bar and coffee shop in Concourse B – Joe's first store in Pennsylvania - offers an award-winning selection of freshly prepared juice combinations, coffee, tea, sandwiches, and smoothies made with organic ingredients. The Copenhagen import has grown to more than 300 cafes in 16 countries.
"It's been a big year for food and drink at the Pittsburgh airport," says Amy Miktus, vice president of Fraport Pittsburgh, developer of the retail program at PIT. "In addition to these hot concepts, we've also welcomed Primanti Bros. and Wigle Whiskey's new restaurants this year alone. The response has been outstanding. Our customers appreciate the variety and the ability to get a satisfying meal or treat on the go."