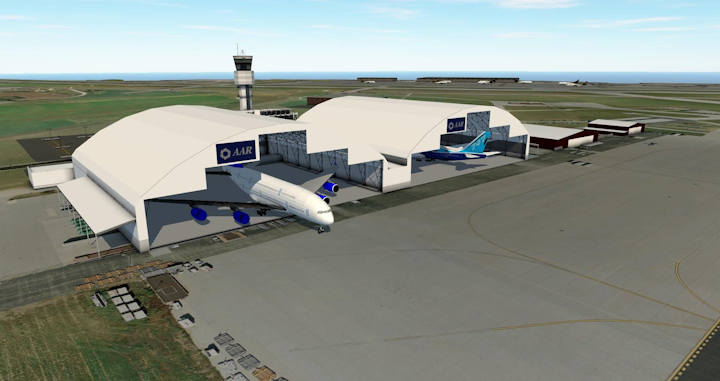 Rubb Building Systems
In June, the Chicago Rockford International Airport (RFD) will open dual 300-foot span hangars built by Rubb Building Systems to be operated by AAR. Strategically located in the Midwest, this advanced MRO facility will employ over 500 skilled workers.
Neither snow, nor rain, nor cold, nor heat, nor wind nor gloom of funding are stopping Chicago Rockford International's new MRO facility from coming on line in June, capable of servicing an Airbus 380 and Boeing 747 at the same time.
"Even an extreme blizzard won't slow the efficiency of the Rockford MRO," says Jeff Polsean, economic development manager, Chicago Rockford International Airport. "Now, we have overcome severe funding challenges. Five hundred skilled workers will soon enjoy natural light in ideal working conditions at the 24 hour per day 200,000 square-foot facility, delivered by Rubb Building Systems, operated by AAR."
Says Dan Roszkowski, president of project's architectural firm Larson & Darby, "This one-of-a-kind building is truly mammoth as an MRO facility. It's impressive from the inside and practical for all kinds of repair."
"RFD's new facility is changing the business landscape not only the airport ground, but the region," says Ken Ryan, director of business development and cargo, Chicago Rockford International Airport.
Joe Scandroli, president of Scandroli Construction, notes that flexibility from the building manufacturer and installer Rubb Building Systems helped the project stay on schedule.
Monumental Doors for the Mammoth Hangar
The Rockford facility's two insulated membrane-clad hangars measure 300 feet long with a 300-foot clear span and 40-foot sidewalls, culminating in a center height of 100 feet. Each structure has five-panel, vertical-lift Assa Abloy Megadoors with pivoting mullions, allowing for housing of aircraft as large as the Airbus A380. The hot-dip galvanized steel frame is clad with two-inch-thick Thermohall insulated fabric. Expected maintenance costs are very low.
The vertical lifting Megadoor with its exceptional seals allows the facility to be climate controlled cost effectively year round. Complimenting the curved membrane structure, the Megadoor's translucent fabric will also allow natural light in, creating a great work environment for the technicians, while minimizing lighting costs.
The Rockford structure represents a high point in Rubb Buildings Systems history in highly efficient membrane clad commercial aviation hangars. According to Chuck Auger, Rubb USA's marketing manager, "Rockford is a step change in hangar efficiency, also being our largest hangar ever. The proof will become clear with service and repair productivity, as well as energy efficiency."
Auger adds, "Rubb and Assa Abloy Megadoor have historically worked well together on numerous projects. Rubb's robust frame structure and superior engineering supports even the most enormous Megadoor applications. Though Megadoor (and Rubb) ostensibly seem more costly, in reality the reduced building footprint and eave height (big savings) along with energy recovery efficiency, make Megadoor the most cost-effective hangar door option. The quality of Megadoor in combination with Rubb's superior framing design makes the actual cost of door operations the lowest in the market, thereby saving the customer a lot of money in the long run."
According to Pierre Varmaloff, Megadoor sales, "The vertical lifting Megadoors with exceptional seals allow the facility to be climate controlled cost effectively year round. Complimenting the curved membrane structure roof, our translucent fabric will allow natural light in, contributing to a great work environment for the technicians, while minimizing lighting costs."
Continues Varmaloff, "MRO design should not be about housing aircraft, but quickly servicing planes to get them back in the air. Megadoors are all about reliability, saving time and money for facility operators, and increasing customer satisfaction. When workers have an optimal environment, this shows up in their work."
Almost in Moth Balls
Only months ago, the project seemed destined for postponement due to financial issues amongst governmental authorities. Thankfully, five local community banking institutions got together to find a way to fast track a $17 million line of credit kept the project moving forward.
Polsean notes, "The entire project was in jeopardy and could easily have been stopped. Without the banks coming together, we would have been dead in the water. The real winner is the local economy and commercial aviation, having a strategically located high-tech facility. More cargo will be a wonderful additional benefit."
According to the Illinois governor's office, AAR is the largest operator of maintenance, repair and overhaul facilities in the U.S. The 200,000 square-foot facility is expected to operate 24 hours a day and will greatly expand the airport's infrastructure. According to the governor's office, AAR chose Rockford due to its central geographical location, highly trained workforce, cost effectiveness and access to a robust warehouse and distribution network. Rockford is also a hub for aerospace and aviation technology, with Boeing, Woodward, UTC Aerospace Systems and GE Aviation all having facilities nearby. Just down the street Rock Valley College is starting an aviation maintenance technology school, which will train mechanics qualified to work at the facility. Rock Valley College is a publically funded institution, which will provide a highly trained workforce to the MRO facility at an affordable cost of tuition, another benefit to the local economy.
For more information about Rubb Buildings, Inc. visit: www.rubbuk.com